IPRO - Intelligent PROgramming
IPRO enables a secure, easy and fast programming of ECUs via Diagnostic Interface. All the required informations are provided by O.CT Tuning directly over the internet.
IPRO was developed exclusively for O.CT distributors to tune vehicles via the Diagnostic Interface OBDII.
  IPRO was not developed for tuners who want to programm vehicles with their own data.

Power optimisations via internet, without opening of the ECUs, with one system, secure, easy and fast.
The procedure
Connect IPRO to the vehicle via the Diagnostic Interface (OBD-II)
Read-out current data
Connect IPRO to the internet
Download vehicle-specific data from the O.CT Server
Transfer the downloaded optimised tuning data from IPRO to the ECU
Charge off the credits required from the O.CT Server directly from IPRO

The IPRO Credit-System
Payment for the completed power optimisations is made via a Credit System. Credits are managed locally on IPRO and can be updated via the internet. Each programming procedure uses up several credits.
New credits can be ordered directly via IPRO. The required quantity of credits per power optimisation can be seen in our Car List.
IPRO stands for
Independent mobile stand-alone solution (the distributor does not need a PC)
Encoded data transmission via internet
Simplest user control
Unambiguous device identification, misuse is ruled out
24-hour online tuning is possible
With lots of TÜV/DTC approvals and O.CT warranty
Multilingual
IPRO "New Generation" advantages
Simplest user controls via a high resolution 7" Touch Screen TFT Display
WLAN option
Clear DTCs / Car diagnosis
Automatically car detection on many models
USB connection
Additional memory possible
Lithium Polymer battery without memory effect
Ergonomic, solid design
Detailed onscreen Help via Help-Button
Fast readout and write processes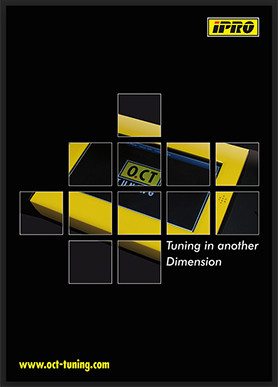 Minimum requirements of the IPRO sales partner
The IPRO sales partner has to be a vehicle workshop or a concession dealer. There must be a diagnostic device, including OBD for multiple brands, or a brand tester. Also an internet access (LAN / WLAN) is required.
You want to become an IPRO distributor? Click here.